Lutheran Social Services New Americans
Building Bridges Conference keynote speaker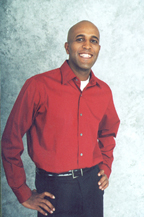 The 2013 Building Bridges conference, presented by Lutheran Social Services New Americans, will be held April 16-17 at the Holiday Inn in Fargo, ND. This year's theme is "Creating Community."
The keynote speaker for the 2013 Building Bridges Conference is Mawi Asgedom, president and founder of Mawi Learning and author of "Of Beetles and Angels"
Mawi inspires educators and students with world-class leadership training. He has spoken to more than a million students in 45 U.S. states.
He has worked directly with more than 1,000 schools worldwide.
Mawi has published eight leadership books used in classrooms worldwide and founded Mental Karate, a leadership action system proven to increase student efficacy and achievement.
He is a former Ethiopian refugee who has inspired millions through his story and leadership insights.
Mawi has shared his insights on many prominent media including the Oprah Winfrey Show, ESSENCE and the Chicago Tribune.
Mawi's bestselling memoir, "Of Beetles and Angels: A Boy's Remarkable Journey from a Refugee Camp to Harvard," has been a reading selection by hundreds of schools and communities.
His teen-success guides, "The Code," "Win the Inner Battle" and "Nothing is Impossible," have also been used in thousands of classrooms. Citing the impact of his work, The Illinois Association of Teachers of English named Mawi the 2006 Illinois Author of the Year.
Register for the 2013 Building Bridges Conference, April 16-17