Lutheran Social Services New Americans
2014 Building Bridges Conference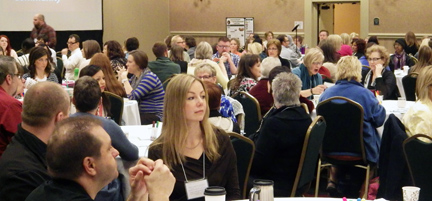 Tuesday, April 8
The 2014 Lutheran Social Services New Americans' Building Bridges Conference opened at the Fargo Holiday Inn with opening remarks from Darci Asche, community support services supervisor; Bob Sanderson, agency CEO; and Laetitia Mizero, program director.
Keynote speaker Luma Mufleh, chronicled her remarkable story of growing up in Amman, Jordan, coming to the United States and eventually founding the Fugees (short for refugees) soccer team in Atlanta.
"It took me awhile to understand that some of the kids I saw playing soccer were living from day to day," Luma said. "And that many of these kids were going to bed hungry."
Throughout her tireless endeavors building the soccer team, as well as the Fugees Academy in Atlanta, Luma said she always believed in the "resilience and goodness of humanity."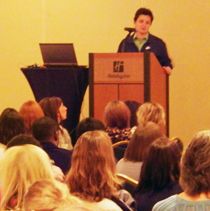 Addressing the conference attendees, Luma added, "(Those of us here) are privileged. We can read and write and we don't go hungry. With that comes the burden of responsibility. We must identify with the powerless, not the powerful. We must do what we can to make the world a kinder, safer place. Our work is about righting wrongs."
Wednesday, April 9
Brad Delzer, an art of hosting practitioner, led the "Welcoming Cafe," which engaged participants in conversation leading to action.
"As a group we can find more solutions than we can as individuals," he said. "We all have ideas, but it's how you connect them that count."