Lutheran Social Services Disaster Response
A day of caring and service in Minot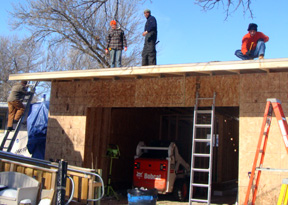 The weather couldn't have been better for a winter day in Minot. On Saturday, February 23, more than 40 volunteers worked in six homes that had been damaged by the 2011 flood.
A group from Hope Lutheran of rural Sawyer hung Sheetrock at a home in Burlington. "The owner jumped for joy when she heard they were coming," said Mary Carlson, volunteer coordinator for Hope Village. "Pastor Tim Mantei has 20 years of experience in the drywall business, so he was the natural leader. The team had fun working together and said they could do this again. There were a few younger guys mixed with this team. One of them said he was happy to work with the guys and learn from them as he was going to be working on his home soon."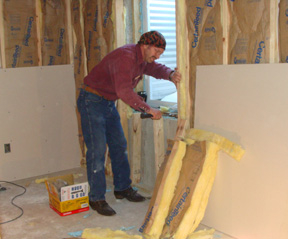 Another group of mostly young people from the Minot Air Force Base installed ceiling and wall insulation in the home of an elderly couple. Some of them stayed longer than their original shift. While she climbed a ladder to install insulation, one volunteer spiritedly said, "I came here to do a job and I'm not leaving until it's done."
Pastor Gerald Roise from Bethany Lutheran Church, Minot, led a caring, skilled team of carpenters. He and another volunteer from the team had repaired their own flooded homes so were very understanding of the homeowner's concerns. The volunteers worked all day doing tasks such as installing heat registers, medicine cabinets, handrails, baseboard and a china cabinet door. They even fixed her dryer vent. "It was a wonderful day," the homeowner said. "Having those volunteers here brought love and hope into my home."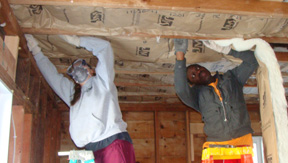 It was warm enough for a few volunteers to help tarpaper a roof and install house wrap. One volunteer had come back to North Dakota to rebuild his parents' home to handicapped standards, as his father was recently diagnosed with Parkinson's disease. ELCA Lutheran Disaster Response (LDR) sent many volunteers to help in this act of love.
Another homeowner needed the firewall in her garage taped and spackled. A local skilled volunteer led a team and had the job done before noon. "The homeowner and her father were thrilled and thanked LDR for all the help she has received in rebuilding her home," Mary Carlson said. "She and her two young children are so happy that their home will be completed soon."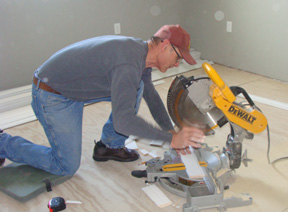 The last home that was worked on during the day of caring had two skilled volunteers from Minot: a local house builder and a flooded homeowner who is now paying it forward.
"It was a fabulous Saturday and much was accomplished!" Mary added."Hurray for all our caring volunteers!"