Disaster Response
Working with key partners, Lutheran Social Services Disaster Response leverages resources to help individuals and communities in North Dakota prepare for and recover from disasters. The agency provides help before and after a disaster through preparedness training, recovery response and recruitment, coordination and supervision of volunteers.
Preparation
It is nearly impossible to predict when or where a disaster will strike. It is possible, however, for communities to prepare for what may happen. Disaster preparedness readies people for the unexpected and allows for a more organized, timely and efficient response when disaster strikes.
Response
Every disaster is different. Lutheran Social Services Disaster Response provides communities, families and individuals with the help they need for the unique disaster they're facing, be it flood, tornado or any other kind of natural disaster.
By working together with ecumenical partners, community organizations and government agencies, Lutheran Social Services Disaster Response coordinates and responds with the resources and volunteers needed.
Volunteer coordination
Volunteers are a key component of Lutheran Social Services Disaster Response. Volunteering not only helps those trying to recover from disaster, but it also "just feels good" for a volunteer to know you are able to help someone in need. Put compassion into action!
Spiritual and emotional care
Addressing the often-overlooked component of emotional and spiritual needs in disaster recovery sets Lutheran Social Services Disaster Response apart from other agencies. These important services are provided to individuals and groups through one-on-one support and educational workshops.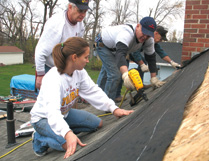 Recovery
Recovery from disaster takes years, not days or weeks. Lutheran Social Services Disaster Response helps impacted individuals and communities connect to the resources they need for long-term recovery. These services include but are not limited to assistance in developing a community recovery plan, coordinating volunteers, rebuilding homes and developing a system to meet local unmet needs and provide case management.
Resources
Lutheran Social Services Disaster Response in North Dakota is affiliated with:
- ELCA Disaster Response of the Evangelical Lutheran Church in America - ELCA.org
- LCMS Disaster Response of the Lutheran Church Missouri Synod - LCMS.org
- National Lutheran Disaster Response - www.ldr.org
---
Contact us

Shirley Dykshoorn, Program Director Lutheran Social Services Disaster Response
Email: sdykshoorn@lssnd.org
Phone: 800-950-2901 or 701-271-3218