Lutheran Social Services Gamblers Choice
March is National Problem Gambling Awareness Month:
"Problem gambling: Have the conversation"
The goal of this campaign is to educate everyone about the warning signs of problem gambling and promote the availability of help and hope.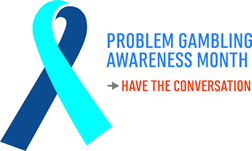 Have the Conversation about Problem Gambling.
Most adults gamble or know someone who gambles, and therefore could benefit from programs to prevent gambling addiction. Many who suffer in silence do so because they don't know why they developed a problem, what gambling addiction is or where to get help.
As the sole provider of accredited counseling services for problem gamblers and their families in North Dakota, Lutheran Social Services Gamblers Choice helps people overcome their gambling addiction and resolve related emotional, relationship and financial issues.
"Each individual or family who comes to Lutheran Social Services Gamblers Choice for assistance has their own unique set of circumstances that need to be addressed," said Lisa Vig, Program Director. "An individualized, thoughtful and personal approach is given to each situation. It's our goal to help facilitate healing and assist in safely returning the addicted gambler to his or her community and family."
Signs of problem gambling
Lying to loved ones about gambling activity
Deterioration of work performance
Trouble concentrating
Missing deadlines and important responsibilities
Worry about mounting debts and inability to pay them
Get help
For more information, contact one of the Lutheran Social Services Gamblers Choice counseling sites:
Bismarck - 1616 Capitol Way, 701-223-1510
Fargo - 3911 29th Ave. S. (effective March 16), 701-271-3222
Grand Forks - 412 Demers Ave., 701-772-7577
Minot - 1905 2nd St. SE, Suite 1B, 701-838-7800
Williston - P.O. Box 163, 603 Main Street 701-774-0749
There are many great resources and personal stories at Gambler ND
The National Problem Gambling Helpline Network: 1-800-522-4700.
For more information about National Problem Gambling Awareness Week, please visit www.npgaw.org.