Lutheran Social Services Gamblers Choice
Gambler ND launched
Site provides resources to those struggling with compulsive gambling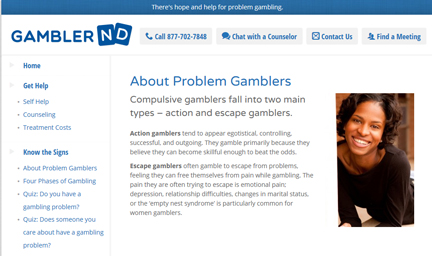 "There's hope and help for problem gambling"
A website to provide information and resources for those struggling with gambling addition was launched March 18.
Gambler ND promotes awareness, education, research, prevention and treatment for problem gambling. Gambler ND is supported in part by Lutheran Social Services of North Dakota.
Gambler ND is a member of the National Council on Problem Gambling. Gambler ND exists to help those affected by problem gambling, and is neither for nor against legalized gambling.
Vital to the success of Gambler ND is the emphasis placed on partnerships and collaborative relationships with those who support its mission.
GO TO Gambler ND