Lutheran Social Services Adoption Option
November Is National Adoption Awareness Month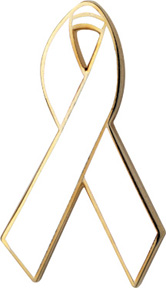 The color white represents hope for all those who wait to be adopted and long to be united with a permanent adoptive family. White also represents the joy in forming a new family or adding to a family such as the white clothing worn in marriage and baptismal ceremonies.
The bow represents a homecoming; this symbolism is a familiar one, having been a symbol in wartime and in song. For Adoption Awareness Month the bow represents homecomings some hope to experience as new adoptive families, and it represents the homecomings that many families touched by adoptions have already shared.
Wearing of a white bow daily during the month of November shows support for, solidarity with, and overwhelming pride felt by families formed through adoption. It is hoped that one day the White Adoption Awareness Bow will become as nationally recognized as the yellow homecoming ribbon is now.
For more information, go to Lutheran Social Services Adoption Option.