Lutheran Social Services Healthy Families
Lutheran Social Services Healthy Families expands to Ramsey County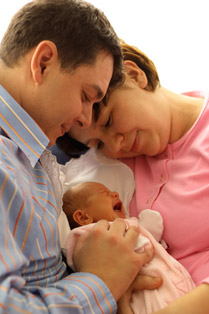 Lutheran Social Services Healthy Families now provides vital services to expectant and new parents in Ramsey County.
The program provides free, voluntary home visitation services to assist families in creating a safe and healthy home. The goal is to improve the health and well-being of mothers, fathers, infants and children up to age three. Services are open to all.
"We are very excited to have been able to expand Lutheran Social Services Healthy Families to Ramsey County," said Janell Regimbal, VP of Children and Family Services. "And we are working collaboratively to serve families at Turtle Mountain alongside the Turtle Mountain Healthy Families program as well."
The agency has had great success with this program in assisting families in Grand Forks and Nelson counties since 2000, and in Burleigh and Morton counties since 2008.
A child's relationship with a consistent, caring adult in the early years is associated later in life with better academic grades, healthier behaviors, and more positive peer interactions. Healthy Families invests in the education of parents and the building of healthy family relationships through weekly home visits. Resources are provided through a respectful, strengths-based approach that views the family as central to the child's well-being. Parents are helped by trained home visitors to manage the stresses of raising children while empowering them to make responsible decisions in many areas of their life.
To inquire about services from Lutheran Social Services Healthy Families, contact the Devils Lake office (423 6th Ave. S.) at 701-662-8017.