Lutheran Social Services Housing
The Landing: New apartments provide independent living for ABLE residents and new moderate rent homes for community members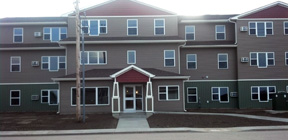 Lutheran Social Services Housing and ABLE, Inc. announce the construction completion of The Landing—26 new apartments located at 3rd Avenue SE and East Divide Street in Bowman, N.D. The first move-ins are slated to take place June 15, 2014.
ABLE, Inc. serves individuals with intellectual and developmental disabilities; some participants also have physical disabilities or challenges. Eight of the units have been tailored to the needs of ABLE program residents, providing them with new, fully independent private apartments. Outfitting includes state-of-the-art accessible bathtub and shower designs in several of these apartments, as well as many other ADA-compliant fixtures and appliances.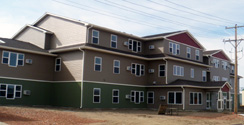 The remaining 18 apartments are available for rent by the public. One-, two- and three-bedroom designs are featured. Finishes include hardwood-look flooring, large living room windows, full kitchens and an attractive modern color palette.
A grand opening celebration for The Landing is being planned for later this summer. Funding for this unique project was provided by the Housing Incentive Fund of North Dakota, with support from Dakota Western Bank, Gate City Bank, Slope Electric Cooperative, Dakota Community Bank, Northern Improvement, Greer Dental P.C., and Mitchell's Oil Field Service, Inc. Financing for the project is provided by Dakota Western Bank.
Apartments are awarded on a first-come, first-served basis. There are no income restrictions for the units that will be available to the public.
Those who wish to receive a rental application should contact:
Lutheran Social Services Housing
(701) 271-3207 or housing@lssnd.org
An equal opportunity provider and employer.