Lutheran Social Services Haven House
Faith in Action Day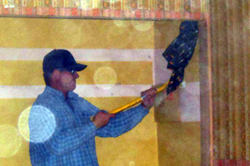 Many generous people have contributed to Lutheran Social Services Haven Hospitality House but there are still many renovations to be completed and more contributions are needed.
Many church volunteers recently donated their skills and labor for a "Faith in Action Day" at Haven House. Walls were knocked down to make room for a handicap bathroom and widening the hallways. Preparations were made in the basement to add new bathroom and two bedrooms as well as a family room.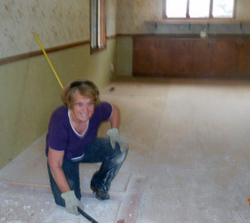 There will be a new stairway built to the basement that will meet current building code requirements. The chain link fence was removed to make room for parking and a handicap accessible sidewalk.
Please help us complete Haven House so we can provide healing, help and hope to those receiving medical treatment or assist families traveling to Williston who have been referred by health care providers, churches or funeral providers. Monetary donations to complete Lutheran Social Services Haven House are needed and appreciated.
Please make your check payable to Lutheran Social Service Housing with "Haven House" in the memo line and mail your donation to Lutheran Social Services Haven House, PO Box 163, Williston, ND 58802-0163.