Lutheran Social Services Housing
State needs $4.4 million to fully capitalize housing fund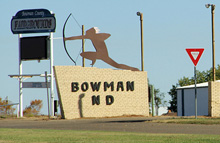 BOWMAN, ND - The North Dakota Housing Finance Agency (NDHFA) needs to raise $4.4 million dollars before year-end to fully capitalize the Housing Incentive Fund (HIF), a program that supports the development of affordable rental housing.
"Ordinary North Dakotans - waitresses, teachers, nurses, bank tellers, and elderly and disabled households - are struggling to pay market rate rent," said Mike Anderson, NDHFA executive director. "We have developers eager to build the affordable housing needed if we can raise the balance of the funds."
NDHFA has conditionally committed $15 million in HIF funding to 26 projects but has received enough contributions to support only 16 projects. Before the final ten developments can break ground, the agency needs to fully capitalize the incentive fund.
A Bowman project is one of the developments in need of taxpayer support. Lutheran Social Services Housing was awarded a $1 million commitment to build The Landing, 24 units for families and disabled households. The project is on hold until the balance of the funds are received.
Jessica Thomasson, Lutheran Social Services Housing program director, said, "Community support of the Housing Incentive Fund will help us get this project off the ground and keep the rents at affordable levels."
HIF does not receive any direct funding from the state. It relies on contributions from taxpayers. The individuals, businesses and financial institutions that contribute to the fund receive a dollar-for-dollar state tax credit in exchange for their contribution to HIF.
"The need for affordable housing is one of North Dakota's biggest challenges," said Anderson. "By contributing to HIF, you can help address this need and have a say in how your tax dollars are spent."
Any individual or business with a state tax liability can contribute to HIF. In return for the contribution, taxpayers receive a dollar-for-dollar state tax credit. The contributions can be directed to a specific project or community.
HIF projects in Crosby, Devils Lake, Killdeer, Kulm, Mandan, Parshall, Ray, Watford City and Williston are also in need of funds.
"Contributions of any size are acceptable as long as they are received by the end of the year so we can keep these projects on track," said Anderson.
NDHFA is authorized to issue tax credit certificates to contributors on a first-come, first-served basis until the $15 million maximum threshold is reached. To date, the agency has received $10.6 million. Contributions must be received by December 31 to be claimed on your 2012 tax return.
For more information, (701) 328-8080, (800) 292-8621 or www.ndhousingincentivefund.org.