Want to help?
North Dakota Housing Incentive Fund
Did you know that every North Dakotan tax payer can now assign 100% of their state income tax dollars to be spent on affordable housing in high need areas? This can be done via a very simple form. See www.ndhfa.org for details and to download the form. Simply send it in with your estimated payment to North Dakota Housing Finance Agency. In return, you will receive a tax credit voucher to submit with your taxes for that year.
Faith-based Partnerships to Help Tenants with Special Needs
A $250-$500 rent security deposit can make the difference between a tenant moving into a much needed unit or being declined and left living in their car, due to lack of security funds. They may have the first month's rent ready to go but be blocked due to not having a required deposit. This small amount of money can ensure someone moves from a shelter or from sleeping on different friends' couches into a beautiful, safe new home. We see it every day. Many churches and service groups make donations to our "Bridge to Home Fund" which helps families and individuals cross the line from homelessness into stable apartment living.
Youth and Volunteer Projects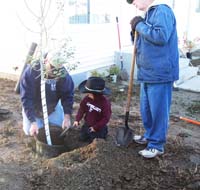 Reading and discussion circles among Confirmation students and our older tenants, along with planting, gardening and groundskeeping projects or helping batch bake dozens of cookies or plates of lefse make outstanding "done in a day" volunteer projects for those who want to help. Please contact us if you would like to design a tailored volunteer project for your group.