Lutheran Social Services Senior Companions
Partnership helps seniors help seniors in Bottineau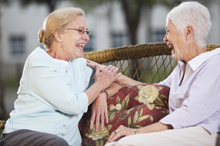 Lutheran Social Services Senior Companions is excited to announce that it is partnering with First Lutheran Church of Bottineau to provide outreach to seniors in the Bottineau area.
Lutheran Social Services Senior Companions is seniors helping seniors live independently, providing reassurance to seniors, their families and friends. The program has been working with congregations throughout the state to expand this service for seniors.
"We have been working for a number of years to imagine how a church is supposed to be," said First Lutheran Pastor Glenn Bergh. "The priority is outreach to the community and to do whatever we can to serve beyond the doors of the church. The senior population, especially those who are alone, is a high percentage of those attending church services. I couldn't imagine a congregation that wouldn't want to be part of this great program."
The First Lutheran Church volunteer station has four companions and serves approximately 35 older adults in the area to remain living independently. Thanks to Pastor Bergh and First Lutheran for their commitment to the Bottineau area community.
For more information please go to the Lutheran Social Services Senior Companions web page, or call 1-800-450-1510 to get involved.