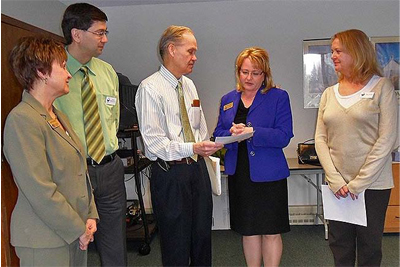 Lutheran Social Services garden project
recieves $2,000 donation
Two State Bank & Trust employees used the bank's "Pay It Forward" program to donate $2,000 to the community garden start-up for Lutheran Social Services New American Services' clients.
Accepting the check was Jack Wood, founding member of Growing Together—a Community Garden Ministry, who serves as a consultant for the Lutheran Social Services garden designated for refugee families and other agency clients. The garden, located on Lutheran Social Services property at 39th Street and 20th Avenue South in Fargo, is a 200 by 200-ft plot that provides an opportunity for about 30 families to grow their own food.
Since 2008, every full-time employee of State Bank & Trust receives $1,000 annually to give to a charitable cause as part of the bank's "Pay It Forward" program.
Growing Together is a partnership between First United Methodist Church, Olivet Lutheran Church and new American families. Donations of seeds, tools, hoses, volunteer hours and more are always appreciated. Contact Darci Asche for additional information at dasche@lssnd.org or 701-271-1604.
Current Needs:
Rakes 20
Hoes 30
Shovels 20
Small Hand Tools 20
Pruning Shears 10
Wheel Barrows 4
Garden Hose 400 feet
Buckets (5 Gallon) 30
Buckets (1 Galon) 20
Hammer ( 3 -5 lb) 2
Pliers 2
Screw Drivers 3
Garbage Cans 40--50 Gallon 4
Gloves Leather, Canvas 30
Gloves Disposable 200
Cardboard Fruit Flats 40
Reusable Produce Bags 50
Plastic Berry Boxes 200
Grocery Plastic Bags 100
Seeds:
Corn 5 lb
Beans 2 lb
Seed Potatoes 10 lb
Onion Sets 8 lb