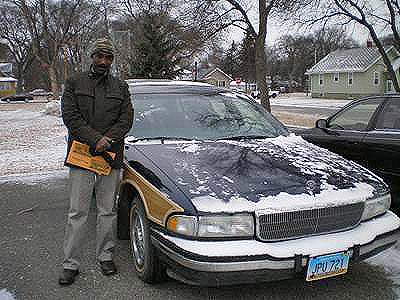 Making a Difference
Adam Sudi arrived in Fargo on May 13 from Jordan with his wife Samia and two-year-old daughter Lujin. The refugee family is originally from Sudan and is receiving resettlement services from Lutheran Social Services' New American Services program.
Adam started working at Northport Hornbachers grocery store in Fargo in October as an overnight stocking crew member. Because Adam's shift starts at 11 pm and ends at 5 am and he did not have any personal transportation, Adam left his house early to catch the bus and waited after his shift for the bus again—with his travel sometimes taking two hours in the evening and two hours to return home in the morning.
"Adam never once complained about the transportation issue, as he was so grateful to be working," notes Yasmeen Frost, New American Services employment specialist.
Enter donor Evelyn J. Brendemuhl of Hope, ND, who donated her 1992 Buick station wagon to Lutheran Social Services' New American Services program and asked that the car be given to a deserving family.
"Adam Sudi was a perfect fit for the donation since he had driven for many years in Sudan and Jordan and also received his North Dakota driver's license in December 2011," Yasmeen says.
The car was donated to Adam in January, and he says he is very excited and grateful for the donation.