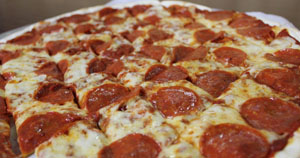 Pizza Makers Fundraiser
Volunteer six hours of your time on a specific date to raise $50 to help your neighbors in need!
Join a group of dedicated and enthusiastic volunteers making frozen pizzas at Pizza Corner in Valley City from 2-8 on a specific Saturday. Each volunteer's efforts that day will earn a $50 donation from Pizza Corner to Lutheran Social Services of North Dakota!
Each $50 that you raise can provide services such as:
One in-home family therapy visit by a professional therapist visiting and working with a family at risk of child neglect and abuse;
A free counseling session for family members of someone with a gambling addiction;
Recruitment, coordination and supervision for flood clean-up and rebuild volunteers to help one family in Minot, ND;
One social worker visit to a woman experiencing an unplanned pregnancy to consider options and develop a positive life plan;
18 visits by a volunteer Senior Companion to the home of an elderly person who needs regular, free help to remain living independently in their own home.
Please click on a date below to register for that specific date. Must be 14 or older to register and work.
Pizza Makers February 18, 2012
Restorative Justice staff & volunteers raised money for agency
Seven people from the Restorative Justice and Youth Court programs in Fargo volunteered in the agency's Pizza Makers fundriaser on Saturday, Dec. 10, in Valley City. By making frozen pizzas for six hours that day at the Pizza Corner facility (with a good time and a free lunch thrown in), the following generous individuals raised $350 ($50 each) from Pizza Corner for Lutheran Social Services of ND: Laurel Pipkin, Youth Court coordinator; Joel Friesz, Restorative Justice program director; and 5 Youth Court volunteers. Thank you, volunteers!
Location:
Pizza Corner, 1031 4th St SW, Valley City, ND
For additional information, please contact:
Elliot Kabanuk
Development Officer
Lutheran Social Services of North Dakota
701-271-3294
ekabanuk@lssnd.org
Pizza Makers Facebook Follow us on Facebook
If you are unable to donate your time at the Pizza Makers Fundraiser but would like to make a contribution to support the many programs of Lutheran Social Services of North Dakota, you can make an online donation by clicking on the "Donate Now" button.