Great Plains Food Bank receives $133,000 from CHS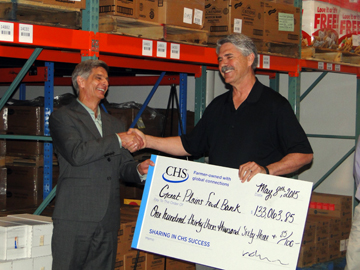 On Friday, May 8, CHS, a global agribusiness with regional locations, presented a check to the Great Plains Food Bank for $133,000. The donation was part of an annual CHS fund drive.
"Every year we provide in excess of 10 million meals," said GPFB Director Steve Sellent. "We just couldn't do it without companies like CHS that provide so much financial support."
With this gift, 532,000 meals will be provided to children, seniors and working families across North Dakota struggling with hunger.