Lutheran Social Services New Americans
From war zone to safe haven: Iraq native finds peace in Bismarck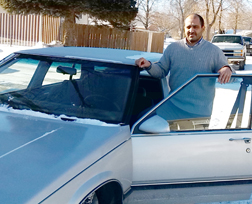 As an interpreter for the U.S. Marine Corps from 2006-08 in his native country of Iraq, Salah Hassnawi worked primarily in the city of Fallujah.
"It was not just one of the most dangerous places in Iraq," Salah said. "It was one of the most dangerous places in the world."
Despite continual threats from Al-Quaida and other anti-American groups, Salah persevered in his work because, he said, "I wanted to support democracy in my country." And because of his service, Salah was granted a Special Immigrant Visa, which led him to the United States and eventually to Bismarck—one of the safest places in the world—last December.
Agency assistance
Through Lutheran Social Services New Americans, Salah is receiving case management and employment services.
"We found and furnished an apartment before Salah arrived in Bismarck," said Turdukan Tostokova, resettlement coordinator. "We helped him apply for a Social Security card and provided referrals so he could enroll in public assistance programs such as SNAP and refugee medical assistance."
Salah's wife and two young children were unable to emigrate with Salah, but he hopes they will be reunited soon. His parents and most of his siblings also remain in Iraq. A sister fled the country as a refugee during the Desert Storm era and now lives in Canada.
"His family members in Iraq are not considered refugees," Turdukan explained. "To be considered a refugee, a person has to flee to a second (usually neighboring) country and apply for refugee status. When Salah gets his green card (permanent residency), he can petition to bring his family here."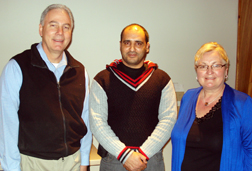 Although refugees are not expected to start employment right away, Salah was eager to work and recently found a fabricator position at Bobcat in Bismarck.
"Salah is a very independent and positive person," Turdukan said. "He has an engineering degree from Iraq, but he can't use that until his diploma is evaluated and he passes exams for recertification."
A community of caring
Turdukan said the pastors and members at Lord of Life Lutheran Church have been very supportive of the program. "They have embraced and welcomed our clients as they adjust to the new community and culture. They've donated apartment furnishings and welcomed our clients to church activities. Many of our clients recently attended an adult education group at the church and shared their personal stories."
Congregation members also assist clients with rides to school, shopping, etc., and have helped some learn to drive. In Salah's case, they helped him purchase a car.
"We are very fortunate to have this kind of support for our clients," Turdukan added. "They come to this country under very difficult circumstances, but our community makes them feel welcome and safe."