Lutheran Social Services New Americans
Elder refugee foster grandparents honored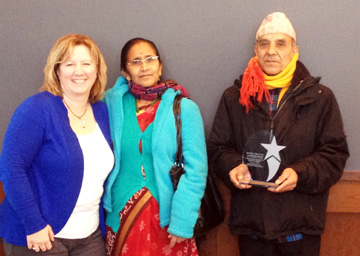 Two foster grandparents associated with Lutheran Social Services New Americans' elder refugee program, Damber Bhattarai and Nepal Laxman, were among those recently honored with a special projects award.
The SENDCAA Head Start "Joining Hands for Kids" special project award, received by the Red River Valley Foster Grandparent Program, acknowledges individuals or groups that have initiated, developed and implemented a program or service that contributes significantly to the support of children, youth, or families.
When adults over 60 volunteer as a foster grandparent, they share their love, time and experience to help a child. Serving at local organizations—including faith-based groups, Head Start centers, schools and other youth facilities—they help children learn to read, provide one-on-one tutoring, and guide children at a critical time in their lives. They give the kind of comfort and love that sets a child on the path toward a successful future.
Working with the Red River Valley Foster Grandparent Program has been a rewarding partnership. Since the program has seen a considerable increase in Dual Language Learning families from Bhutan this year, it has been a gift to have Bhutanese foster grandparents Laxman and Damber in the Head Start classrooms since September.
Going above and beyond
Laxman and Damber communicate with children across cultural, linguistic and racial barriers by giving hugs, encouragement and taking care of them like their own children. They appreciate differences while embracing what is unique in each child. They also help teachers who face language barriers in working with Bhutanese children by conversing with them in Nepali, which helps them to assimilate in the classroom on a daily basis. They enable these children to acclimate into the learning environment. There is an intrinsic trust and familiarity between the foster grandparents and the Bhutanese children.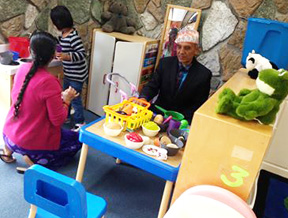 Second, Laxman and Damber serve as the "extra hands, ears and eyes" in the classroom and contribute unconditionally in small ways like playing with the children, cleaning tables. They engage actively with children in doing artwork and puzzles. According to one of the teachers, "Laxman and Damber go above and beyond to help us in the classroom. We feel something is missing in our lives when they are not around. We need them and I hope they continue to work with us for a long time. Damber gives everyone a hug including the teachers and brings chocolates every day."
Third, the foster grandparents bring a unique cultural perspective in the classroom. Since they are originally from Bhutan and are new arrivals in the United States, they have not had the opportunity to learn much English or interact with the local community. By working at Head Start, they are developing language acquisition skills in English and at the same time are able to share Nepali with the children and teachers.
Finally, Laxman and Damber bring their life experience and wisdom while interacting with the children. Their affection and connection with the children makes them great mentors who lead by example, which helps shape young lives toward becoming adults with character and integrity.
There are five senior refugees currently working as foster grandparents in Head Start.