Lutheran Social Services New Americans
Putting a refugee family on wheels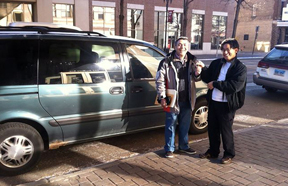 Basic transportation is something most of us take for granted. But for an Iraqi family of six who arrived in Grand Forks in September, getting around the city was a major issue. They have been working with Lutheran Social Services New Americans Refugee Employment Services to find jobs in the community, so the need for better transportation was critical.
"As a staff we look at the needs of our refugee families," said Shyam Rai, case manager. "This particular family lives on the north side with limited access to bus service. In this case, the father, Abdulkareem, had a license and 14 years of experience driving, so they were a good match for an anonymous donor.
That donor gave the agency a minivan with relatively low miles and a good service history. Shyam helped the family with the title transfer and getting the vehicle insured.
"I called Abdulkareem to see how it was going," Shyam said. "He told me they are very happy and very thankful for the help we gave them."
"This generous donation will only help to further their ability to find gainful employment and integration into the community," said Katherine Dachtler, resettlement coordinator. "We are especially thankful and grateful for generous donors who maintained a meticulous history of the vehicle and provided a full tank of gas. Thank you for making Grand Forks a beautiful, welcoming community!"