Lutheran Social Services New Americans
Senior companion program extended to elder refugees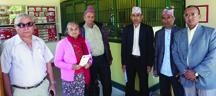 "We are here to die."
That seemed to be the consensus among elder refugees when Kavitha Gundala joined Lutheran Social Services New Americans as an intern in 2011.
"We had a number of issues with our senior refugees," Kavitha said. "The isolation was killing them. We thought if we found them jobs or just something to keep them occupied they'd be happy. But language was a barrier to them getting jobs."
Kavitha tried a number of things, from exercise programs to park outings, which all helped, but she felt there was a larger issue and approached Lutheran Social Services Senior Companions for help.
"I asked if our elder refugees could be part of the program," Kavitha said. "There's no requirement that they speak English."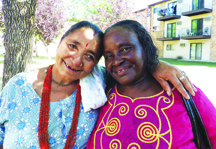 With Kashi Khatiwoda serving as the first senior companion in Fargo, Kavitha started a pilot program. Kashi was trained and took on 10 clients.
"I became a senior companion by looking at the differences in the refugee homes," Kashi said. "While most are able to work or go to school, the elders are often sitting idly at home thinking about all the problems they've had over their lifetimes and feeling helpless. This program gives them happiness and a time to talk about their experiences with others."
One of the first things Kashi did was help his clients learn how to use the city bus system. The program has grown to where there are now six elder refugee senior companions—five Bhutanese and one Somalian.
Rachel Mobedje, who moved to United States last March, was not happy about her resettlement and the change in her environment.
"I asked Bishnu Khadka to be a senior companion to Rachel," Kavitha explained. "Bishnu did not hesitate to take the challenge and did not see language as barrier.
Bishnu said, "I am old, a refugee and trying to survive in the new environment—the same as Rachel. There is no big difference."
Krishna Adhikari, a senior companion since 2012, also recognized the problem that elder refugees have getting to places like the community health center. "With our help," he said, "they can get out, see new places and not think about bad things that go through their mind while they're sitting at home."
Khadga Bhattarai, who became a senior companion this year and has also worked with torture victims in the refugee camps, said the program helps elder refugees adapt to their new environment. "One rewarding part for me is taking them to the citizenship classes," he said. "It's one of the most fulfilling things they can do."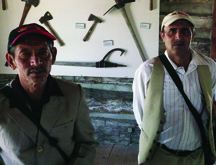 "For senior companions I give thanks and gratitude," said Bir Bahadur Khadkha. "It's helped introduce me to people of other cultures and to exchange ideas and cultures. I've achieved a lot of things and been able to go to classes and learn new things."
After coming to the United States, Bir said he felt lost in his new environment. "For a long time I was never able to express myself or speak to other people about what I've been through. My senior companion helped take that pain from my mind."
Nilakhata Dahal, a secondary migrant, came out of a refugee camp in 2008 and now lives in Fargo. "This program has been very good for me," he said. "I've learned so much. With my senior companion, we plan activities for the next day and talked about the things we learned at school and past experiences."
"Each senior companion takes care of as many as 10 people," Krishna said. "And we have many more who want a senior companion."
"When older people are happy, the family is happy," Kavitha said. "This collaboration is beautiful."