Lutheran Social Services New Americans
2013 Building Bridges Conference opens with inspiration, humor from Mawi Asgedom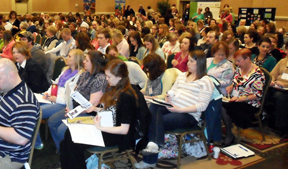 A near-overflow crowd filled the Fargo Holiday Inn ballroom Tuesday morning (April 16) for the start of the annual Lutheran Social Services New Americans' Building Bridges Conference. The theme for this year's two-day conference is "Creating Community."
Following greetings from Lutheran Social Services of North Dakota CEO, Bob Sanderson, and Lutheran Social Services New Americans Director, Latetia Mizero, plenary speaker Mawi Asgedom enthralled attendees with humor and stories that illustrated his belief that "nothing is impossible."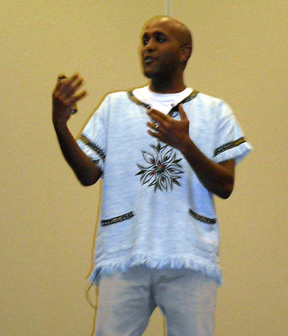 From his turbulent childhood in Ethiopia and a Sudanese refugee camp, Mawi and his family fled to the United States, where he overcame poverty, graduated from Harvard University and became a renowned author, educator and speaker. Mawi told the audience that despite the challenges that include language and financial barriers, refugees can find hope and opportunity.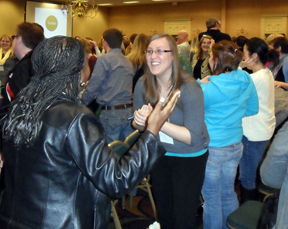 Early in his childhood, Mawi said he felt unnoticed or "invisible." To illustrate this, he asked audience members to seek out someone they've never met before and act like he or she was the one person they've wanted to meet all their lives—except for the first two rows, which he asked to remain seated. "Did you notice those who weren't moving around and meeting someone else?" Mawi asked. "They represent the invisible ones you must reach out to and support."
He added, "You need to press your turbo button to take action. You must be like Velcro—stick to someone and make an impact. You are the turbo people who build Velcro with the invisible."
To learn more about Mawi Asgedom and his message of hope and inspiration, go to http://www.mawispeaks.com/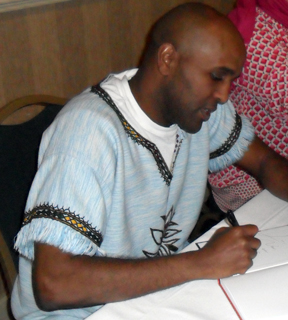 2013 honorees
The following business, agencies and individuals were awarded certificates of appreciation for their contributions to Lutheran Social Services New Americans over the past year:
Fargo:
Employer: Northport Hornbachers
Volunteer: Mariam Bossoma
Congregation: Lutheran Church of the Cross
Service Providers: Fargo Adult Learning Center
Self-Sufficiency : AbdiAziz Omar
Foster: Lomingo Baguma and Sylvie Baguma
Grand Forks:
Employer: Texas Roadhouse
Volunteer: Elaine Carlson
Congregation: Hope Evangelical Covenant Church
Service Providers: Salvation Army
Self-Sufficiency : Tulsi Kharel
Bismarck:
Employer: Walmart Supercenter North
Volunteer: Corinne Campbell
Service Providers: Bismarck Adult Learning Center
Self-Sufficiency : Sinan Abdullah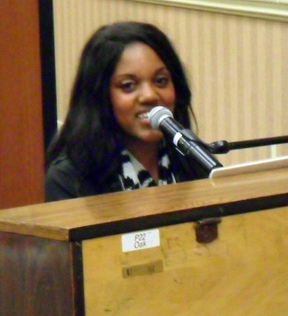 Luncheon speaker: Rosie Savegeau, Miss North Dakota
The current Miss North Dakota, Rosie Sauvegeau, spoke and performed at the opening day luncheon. A graduate of Concordia College, Moorhead, Sauvegeau is an established musical performer and an active composer, making appearances around North Dakota to bring people together through her music.
During her reign as Miss North Dakota, Rosie is reaching out to people and making connections through music. During a recent school presentation, Rosie said a special needs child with limited communications skills was in the audience. As she performed the Lennon-McCartney song "Let It Be," Rosie said the child began to sing along as best she could.
Accordingly, Rosie performed "Let It Be," along with a ragtime number and Bob Dylan's "Blowin' in the Wind."
"Finding a common bond through music is a great connector," Rosie said. "It can be the glue that will enable acceptance."
Stories of Creating Community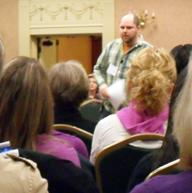 With a host of facilitators, Wednesday's session opened with "Stories of Creating Community." Through small storytelling circles, Brad Delzer, an Art of Hosting practitioner, opened with the question, "how do we create a community where everyone feels they belong and can contribute."
The telling and re-telling of people's stories, Delzer said, helps make a difference in our lives and in the world.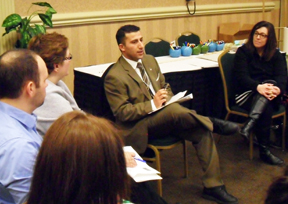 The stories told in small groups included those of refugees, immigrants and those who have welcomed them. The storytellers included Lutheran Social Services New Americans staff members who came to America as refugees.