Lutheran Social Services New Americans
Building Bridges Conference feature presentations
Florida Center for Survivors of Torture

The Florida Center for Survivors of Torture (FCST) serves survivors of political and state-sponsored torture living in Tampa Bay and Miami-Dade counties through an intensive case management and strength-based, client-centered model. The goals of the program are to increase self-sufficiency and self-efficacy and to support survivors in their healing process. FCST assists survivors in rebuilding their lives and works to empower them through a community-based approach.
Complex marginalization and trauma
Resilience and self-sufficiency
Informed service provision
Multicultural issues in service provision
Stories of Creating Community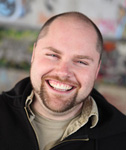 Led by Brad Delzer, theater artist and storyteller
Hear the stories of refugees, immigrants and those who have welcomed them.
Learn how someone becomes a refugee; what life as a refugee is like; how refugees come to the United States; what the resettlement process is like; and how newcomers and welcoming communities impact each other.