Lutheran Social Services New Americans
From Bhutan to Nepal to the American Dream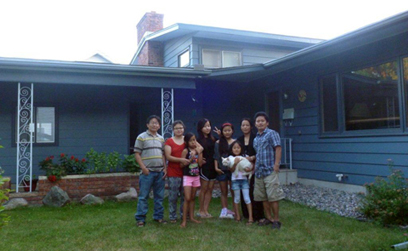 From his native Bhutan in South Asia to a refugee camp in Nepal, where he spent the heart of his life, Shyam Rai has found a new permanent home in the United States. Shyam and his wife, Durga, and his brother and family recently realized the American dream and became one of at least six former refugee families who have purchased a house in Grand Forks over the last year and a half.
Shyam, a case manager and immigration specialist for Lutheran Social Services New Americans, couldn't be happier—it's the first time he's been able to call anywhere home in 22 years.
Swept up by massive violent conflict in Bhutan in the early 1990s, Shyam and his family were among thousands of Bhutanese people who were forcibly evicted from their country and sent to refugee camps in neighboring Nepal. Shyam spent the next 18 years of his life in one of these camps.
Through U.S. diplomatic efforts and Lutheran Social Services New Americans, Shyam and most of his family were able to resettle in Grand Forks in 2008. Shortly afterward, Shyam met and married Durga, also a Bhutanese refugee.
"At first I never dreamed of owning a home," Shyam said. "I was busy getting adjusted to the community and worried about how life would be for me. I was anxious and a little afraid, but life eventually got better and I found the people here to be friendly and welcoming."
Shyam and his brother talked for a long time about purchasing a home. Working with a local Realtor who understood their situation, they were able to purchase a four-level split home, which includes four bedrooms, two sitting rooms and an office room.
"My brother and his wife have four kids so there are eight of us living in the home," Shyam said. "And it's close to our church and the schools. The kids were really excited about moving to a house. They play all around the house and they're able to have a beautiful cat. It's all really awesome!"
Other family members, including Shyam's parents and his brother-in-law and family, live within two miles of them.
"We get together a lot and discuss things like what we went through in the refugee camp," Shyam said. "We talk about how little we had in the camps and how much we have now."
Shyam said one of the best things about being a homeowner is the identity it gives him. "For me it means that I'm truly part of the community. We now have a good place to gather and enjoy time together. And we now have a garden where we can all work together to grow some of our own food."
For more than 20 years, Shyam had only a few possessions. Now, he said, "I have a home and my dream is coming true. Next I want to become a U.S. citizen, and I hope that will happen this year. Before 1991, I had a home and citizenship—and now I'll have that again. I'm lucky to have come to such a beautiful place as Grand Forks."