Lutheran Social Services Disaster Response
Encouraging fire victims with Stars of Hope
About 45 people, including families of Bucyrus fire victims and residents from other communities, came together to paint Stars for Hope at Bucyrus Lutheran Church Saturday, Feb. 16. The group also painted stars to send to victims of Hurricane Sandy.
It was a great day to get together to talk and decorate stars of hope and post them throughout the Bucyrus community as a sign of encouragement and support for disaster victims.
The church had recently finished remodeling its basement, which was damaged from last October's wildfire that devastated most of the town. On Sunday, members were excited to hold their first potluck since the fire and to display their stars to the congregation.
"It doesn't matter where the disasters happen, survivors need to hug, talk and spend time together," said Mary Barker, Minot Recovery Warehouse manager. "It is so powerful to have the opportunity to give these stars to others who are suffering from disaster."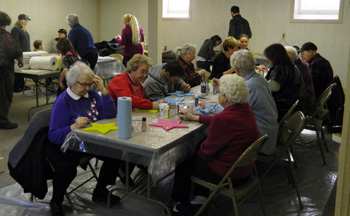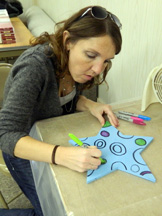 Volunteer Paul Logan added, "It's always encouraging to see this positive outlook and the community connection that we saw."
"It is nice to see less stress in the community," said Bucyrus Lutheran Church Pastor Stephanie Swanson. "This has been such a gift and blessing."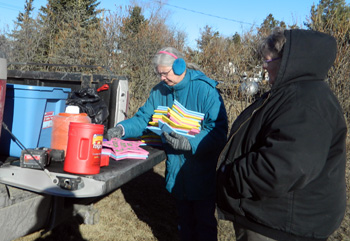 Heidi Thompson, a volunteer and Bucyrus fire victim, said this event was a great opportunity to "pay it forward." She added, "We had great fellowship. On my way to church yesterday it made me smile to see all the stars."
"This has been a very uplifting and inspiring experience," said Jenny Snyder, Case Manager, Lutheran Social Services Disaster Response. "I can't imagine losing everything I own and then being able to be so positive, encouraging and uplifting to others."