Lutheran Social Services Disaster Response
Minot Flood Recovery effort winds down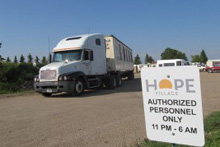 Lutheran Social Services Disaster Response staff in Minot have been rebuilding lives since the 2011 Ward County flood. As volunteer resources and staffing wind down, we remain committed to the clients who still need some help, but not at the level we had been able to support.
"Minot staff have been fantastic to work with and committed to meeting the needs of Minot flood victims," said Shirley Dykshoorn, program director. "Closing an operation such as this is not easy. Everything from transferring titles on trucks and moving a shower trailer, to removing files/furniture/equipment/tools to having to say goodbye to work colleagues is difficult."
A skeleton staff will remain after October to assist with the homeowners' needs on a part-time basis to help get materials to homeowners and provide construction guidance.
"We can't keep the entire team, but we will continue to work with clients on our list to get those last homeowners who are vulnerable the help they need," said Joan Buchhop, who supervises the team in Minot.