Lutheran Social Services Disaster Response
(formerly Lutheran Disaster Response)
Hope Village seeks volunteer teams in Minot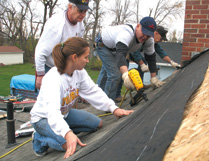 MINOT, ND (October 5, 2012)—As the days become shorter and the air gets crisper, Hope Village continues to coordinate volunteers who are working on rebuilding projects in long-term flood recovery. Lutheran Social Services of North Dakota is a founding partner in Hope Village, the flood recovery volunteer coordination and housing center in Minot.
All through next season, Hope Village will continue working towards its goal of helping to put 500 families back into their homes after the June 2011 Souris River flood.
In the first year or so after the flood, a host of volunteers removed debris, gutted and mucked homes and tackled tree removal and yard work.
But as the rebuild marches on, volunteers with more specific construction skills are needed.
The urgency of getting everyone back into their homes motivates Hope Village to seek out skilled volunteer teams willing to come to Minot.
While it's not necessary that every volunteer be an expert in carpentry or construction, a five- or six-person team with one or two skilled workers would be ideal.
While job assignments will change as progress is made, teams should sign up as:
1. Carpentry teams working on framing, finishing, installing windows/doors cabinets, siding and subfloors
2. Drywall and finishing teams that would ideally be assigned to hanging, mudding, taping, texturing, priming and painting
3. For teams that are interested in serving Minot but do not have specialized skills, there will still be a need for general disaster teams. While these opportunities aren't predicted to be as necessary next summer, we will have gutting, mucking, power washing, sanitizing, demolition, yard and house cleanup and tree removal projects available.
Teams interested in traveling to Minot from April through September 2013, can call
855-720-9804. Teams interested in serving from now through March 2013 may contact
701-240-1495. Information is also available at www.hopevillageND.org.