Lutheran Social Services Disaster Response
Stars of Hope: God directs us (to New York)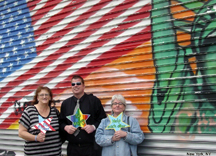 By Mary Barker, Lutheran Social Services Disaster Response, Recovery Warehouse
After witnessing the impact Stars of Hope had on Joplin, Missouri, I contacted the organization to see if they would consider coming to Minot. One year later, for their 9/11 National Day of Service and Remembrance, volunteers from Texas, Arkansas, Georgia, Kansas and a bus load from Missouri Southern State University brought us Hope. We committed to "pay it forward" to other communities.
In February, Stars of Hope in Minot held a community paint in Bucyrus, N.D., giving this small community a chance to be together and paint words of encouragement on stars. Later that month, Stars of Hope was contacted by the National 9/11 Memorial Museum to see if we would hold a community paint for its first "feel good event." Stars of Hope workshops in Texas, Kansas, Georgia, Arkansas, Missouri and North Dakota got to work and shipped 3,000 plywood stars to the museum. I was overwhelmed with emotion and honored to be a part of Family Fun Day on April 21.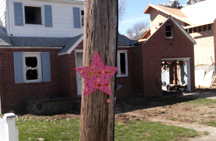 I left Minot on April 17 with an additional 30 specially painted stars, destination unknown, but somewhere in a Hurricane Sandy-impacted area. It was the day of the event at the 9/11 museum. We were getting ready when Charlie Brown's (Joplin) phone rang. He was asked if we could put stars up in a small ocean-side community. We had a choice to make and decided to go post stars. So, on a Sunday morning, city leaders in Babylon Village, N.Y., gave us permission to post stars. Since we posted the stars, Babylon Village has held a community paint and posted stars in neighboring communities. Although we missed the event, we knew God wanted us to go to Babylon Village.
For three weeks, I had not been able to get it out of my head that we needed to go to Far Rockaway, N.Y. On Monday morning, our New York guides told us that "It's not a good neighborhood." They tried to talk us out it. I told them about being guided there and they reluctantly relented. We split into two teams. Although I was not on the team that experienced this "star story," I knew why God wanted us to go to Far Rockaway.
Be Strong
By Rikki Renee Smith, Stars of Hope volunteer
As we posted a star on the outer side of the pole, a woman yelled down from her third floor apartment, "What are you doing with those stars? What do they mean?"
We explained that we were with Stars of Hope, and that we were all disaster survivors, and had brought these stars for Hurricane Sandy relief. These stars were painted at the 9/11 Memorial's family day.
"Just a minute, I'm comin' down there," the woman said. We posted a star on the side of the pole facing her window.
When she arrived, she said her name was Sharon. She told her story: one year ago, her 18-year-old son Shawn was killed in the street in front of his apartment. "R.I.P. Shawn" is painted next to the doorway to the apartment building. Sharon was preparing to get the kids in the neighborhood together and work on an anti-violence campaign. She read the star we'd posted: Be Strong.
Sharon hugged us all and we chatted for a bit. She called us her angels, and her words from a Facebook post several days later said it all:
"The star had on it "be strong." Just the words I wanted to hear. One of the ladies gave me a star in my hand. How can I not want to live? I love life. The Lord puts people in places at the right time. This is a wonderful little piece to my life."