Lutheran Social Services Disaster Response
Lutheran Social Services Disaster Response aids destroyed town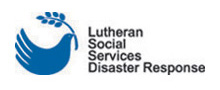 Lutheran Social Services Disaster Response has established a committee to work with and assist the small southwestern North Dakota town of Bucyrus, which was struck by a wind-fueled wildfire on Oct. 18. Most of the town was destroyed and its 27 residents were displaced.
"We are assisting the homeowners with the application process to receive disaster funds," said Program Director Shirley Dykshoorn. "A local credit union has started a relief fund for donations, and we're working on a grant for additional funds to assist homeowners."
The North Dakota Community Foundation has established a website for donors who wish to make online gifts to add to the relief fund. "Along with their homes, people lost lifelong possessions," Shirley added. "Three families who had businesses lost records and inventory. We will be meeting with families to tally their losses and hope that the dollars continue to come in."
Last week, Shirley brought a Suburban filled with food, toys and clothing from Lutheran Social Services' Great Plains Food Bank for the families who lost their homes in the fire.