Lutheran Social Services Disaster Response
AmeriCorps team cleans up in Minot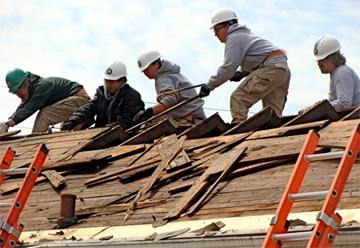 The AmeriCorps* NCCC Cedar 6 team recently left some Minot homes in much better shape than when they arrived. At least 12 Minot homeowners benefited from Cedar 6's time with several now closer to returning home.
The team, which was supervised by Janell Cole, assistant construction manager, Lutheran Social Services Disaster Response, prepped several homes for sanitizing, power-washed/sanitized several, demolished or helped demolish two homes that will be rebuilt, picked up demolition or rebuilding debris at numerous sites, re-sheathed the exterior of a house and many other smaller jobs, such as cutting weeds.
"While some of my past teams have been outstanding workers and a pleasure to supervise, Cedar 6 stands out as more impressive than even the best of previous teams," Janell said. "They consistently exceeded my expectations, and did so beginning with their first assignment on the first day. I was continually surprised at how fast they worked, how remarkably self-directed they could be once a task was explained, and their motivation to do a complete job."
The team went above and beyond the call on its second day in Minot when they needed to remove an old, heavy ruined chest freezer from the basement of a house that had flooded. It was so heavy they had to to open the freezer and see if it still had contents that were weighing it down. "It did," Janell said. "And as you might imagine, the smell was horrendous."
The team donned masks to temper the overpowering odor and hauled several heavy bags full of dripping, rotten food out of the basement. "Once that was done," Janell continued, "it was necessary to bail out the putrid stew remaining in the bottom, one cupful at a time, into buckets. The freezer was still too heavy to lift, so we had to take its door off to further lighten it, and then it was finally able to be carried up the stairs by several of the team members."
Another home that had supposedly been sanitized by the owner provided another challenge when the team discovered the underside of the floor boards and joists were covered with mud.
"That was mid-afternoon on a Friday so we had to finish this house that day," Janell said. "Nick (the team leader) assessed the situation and put his team into overdrive. We used a power washer in the basement, along with most team members hand-scrubbing frantically. It was a phenomenal effort and we were able to complete the job, collect and return our equipment, and quit work that day at approximately the same time we usually did."
*AmeriCorps, a program of the federal government, engages adults in intensive community service work with the goal of helping others and meeting critical needs in the community.