Disaster 101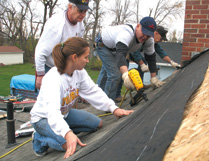 What do I do first when disaster strikes?
First of all, take a deep breath. There is help available. Take pictures of the damage if possible. Register with FEMA as soon as possible. Contact Lutheran Social Services Disaster Response at 800-950-2901 or by email.
How do I register for FEMA?
Call 1-800-621-FEMA or TTY 1-800-462-7585, or go online at www.disasterassistance.gov.
Operators are available daily from 7 a.m. to 11:00 p.m. Central time (6 a.m. to 10 p.m.
Mountain).
Social Security Number

You will be asked to provide your social security number; if you are registering for a business, your tax ID number should be provided. If you do not have a social security number, your household may still be able to receive assistance if there is a minor child in the household who is a U.S. Citizen, Non-Citizen National, or Qualified Alien with a social security number. (NOTE: If you, your spouse or a minor child in the household who is a U.S. Citizen, Non-Citizen National, or a Qualified Alien does not have a social security number, FEMA will not be able to complete a registration. If you do not have your or your spouse's social security number at this time, please call back. The Social Security number is required for Identity Verification purposes.)

Insurance information

You will be asked to identify the type(s) of insurance coverage you have.

Financial information

You will be asked to enter your family's gross total household income at the time of the disaster.

Contact information

Along with the address and phone number where the damages occurred, you will be asked for information on how FEMA can contact you. It is very important that you provide FEMA with your current mailing address and phone numbers where you can be contacted.

Electronic Funds Transfer (EFT) Direct Deposit Information (optional)

If you are determined to be eligible for assistance and would prefer that funds be
transferred to your account, you will be asked for your banking information, which
includes: the institution name, type of account, routing and account number.
How do I get help with cleanup?
Call the Lutheran Social Services Disaster Response Volunteer Center at 1-800-950-2901 or email to register your cleanup needs. Often it is necessary to remove paneling, sheet rock or insulation to stop mold from growing behind the scenes. You don't have to know how much of the wall needs to be removed when you call, just approximately how much water you had in that area. Simply call us and we will ask questions to help determine your entire cleanup needs. Volunteers are able to do various levels of cleanup and we want to match as closely as possible your needs to their skills.
How do I know my house is clean?
If the area remains damp, the threat of mold increases and this could pose a medical problem. Sanitizing the area that had flood water on it will decrease this threat. Remove all debris and scrub the area with detergent first. Using a solution of 1 part bleach to 10 parts of water (approximately 1½ cup of bleach to 1 gallon of water), spray on area and let air dry. Bleach will kill what spores on the surface of the contaminated area. You could use a spray bottle or on large areas, a clean hand-held weed sprayer works well. A newer product in now available called Shockwave which kills and stops the growth of mold. Using either bleach or Shockwave can cause human damage so follow directions for safety. FOLLOW SAFETY instructions on the products to protect your lungs and make sure ventilation is adequate.
Do not rebuild until the wooden structures (studs) are dry. The dryness should be checked with a moisture meter. If the moisture level is too high and you rebuild, you will probably end up removing all the new rebuild because mold will grow on the moist studs.
I can't afford to repair my house…
Once you have worked with FEMA, SBA, flood insurance, personal insurance, you may have some disaster-caused unmet needs such as no money for hiring someone to repair your home. The Bank of ND may issue low cost loans that may be available too. If the part that needs repair/rebuilding is essential living space, you should fill out a RAFT Form.
What's a RAFT form?
A RAFT form is the entry into the Case Management system where additional help may be available. RAFT stands for Resource Agencies Flood Team. The team is comprised of several agencies doing case management on behalf of those impacted by the disaster. Case managers are members of VOAD (Voluntary Organizations Active in Disaster)and may be connected with the United Methodist Church, Red Cross, United Way, Lutheran Social Services Disaster Response, the Salvation Army and others. Together, they form the RAFT team so the case manager assigned to you will assist you through the rest of the process. This means you don't have to go from agency-to-agency to get additional help or the best deal – one form will get you "into the system" for fair and equitable assistance!
What is Case Management?
Case management is a term used to describe the process your request for help moves through. When you fill out a RAFT form and mail it to the appropriate address, it is reviewed to see that your request is for disaster-caused needs. If so, your application is assigned to a case manager who will work with you to make your house safe, sanitary and secure for essential living space. The Case Manager may be your advocate to FEMA for additional funding, connects with local programs that may help such as the weatherization program through Community Action, or using a point system, will take your needs (anonymously) to a Local Unmet Needs Committee for consideration of funding request.
What's a Point System?
A Point System has been established for equitable consideration of needs. For example, if you are elderly, that may be worth 1 point. Points are available for various things such as disabled, degree of damage to the house, single parent and so on. Each point then is assigned a dollar value based on the financial donations available. An example might be 1 point = $150.
Where does the money come from?
The Federal Emergency Management Agency (FEMA) will perhaps assist with furnace, hot water heater, and electrical panel replacement. They may help with mitigation which is changing something that will prevent future impacts.
Flood Insurance is a federally subsidized insurance that protects homeowners from any property damages due to flooding. For example, if your walls are damaged, this may provide funding to fix that.
Personal Insurance will cover the contents of the house – having pictures of possessions prior to a disaster will greatly help you in time of need. You may check with your insurance agent about storing that information at their office.
Small Business Administration (SBA) loans are part of the FEMA process. If offered to you, it is essential that you fill this out or you may lose out on additional money that may be available to you. If you are offered a loan, you can then decide whether to accept all or part of it. If you are denied that loan, a grant may be available to you instead. But, if you don't fill it out, there is no hope of any additional funding to help you through that process.
The Bank of North Dakota may offer low cost loans to repair your home.
A Local Unmet Needs Committee may also be a source of funding for unmet disaster-caused needs from donations to a fund set up in the community. Access to this funding is only through the Case Management system after all other resources are exhausted such as FEMA, SBA, insurance and so on.
Other funding that may be available is the ND Long Term Recovery fund that seeks donations from national church bodies, local congregations and other donations. This fund will be used for those counties where no Unmet Needs Committees are present.
What is an Unmet Needs Committee?
A Local Unmet Needs Committee is comprised of trusted members of the community that will consider the requests brought by the case manager on your behalf. These trusted members of the community may include pastors or community leaders but never any government entities. Your name is never given to this committee and your identity is protected by using an assigned number instead. A summary of financial information, damage, how many points you qualify for and the amount requested is the only information shared with this committee. The case manager supervisor will advocate on your behalf to this committee so the more information you can provide the case manager regarding the damage and challenges you are facing will be helpful in understanding your situation. The case manager will not share information that could identify you to the committee.
What are "unmet needs"?
Unmet needs in the realm of disaster response are needs that still remain after all other sources of assistance have been exhausted. The needs that will be considered must have resulted from the disaster and affecting essential living space.
How Will My House Be Rebuilt?
Through the case management process, your unmet needs for rebuilding will identified. This process also includes a visit to your house by someone trained in assessing disaster damage and estimating what materials are needed and what tasks need to be done to complete the repairs. This estimate of materials and cost is shared with the case manager who then will identify where money for those materials will come from. It may include assigning volunteers skilled in rebuild to complete the work.
A New Normal
As much as our hearts would like to "make things the way they were", there simply isn't enough funding and volunteers for that. This means that spare bedrooms and non-essential living areas such as a recreation room in the basement so the grandkids can play there twice a year won't be rebuilt past code requirements using this system. However, the case manager will assist you in reaching a "new normal". Things simply won't be as they were before, but it's a start!