Lutheran Social Services Disaster Response
Preparedness for Churches
Does your congregation have a plan in place to aid in recovery should a disaster strike YOUR church?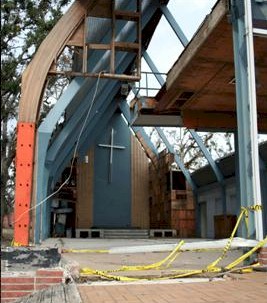 The reports of disasters striking suddenly fill the news and North Dakota is no stranger to disasters. Even with advanced warning, disasters are simply that – disastrous.
How will the normal activities of the congregation resume?
Who will be impacted in the congregation and community and how?
How safe are the vital records of births, deaths, weddings, baptisms?
What if a pandemic event happens?
Once a disaster strikes, members will be in need of spiritual and perhaps physical assistance, the community at large will look to the church for healing and hope while vital records may be lost forever.
Lutheran Social Services Disaster Response has a free guide available to help you put together a preparedness plan for your church. Consider designating someone(s) to complete this essential task prior to needing it. As Ben Franklin wisely said, "a stitch in time saves nine."
Lutheran Social Services Disaster Response can also assist congregations with preparedness planning. In addition to the free guide, the staff of Lutheran Social Services Disaster Response will also provide support in preparing the actual plan for your unique congregation. Click here to download a questionnaire to help you assess your degree of preparedness. As you consider the questions, think of a specific types of disaster to help envision your readiness.
If you would like a copy of the free guide or assistance developing your plan, contact us by email or by calling 1-800-950-2901. Please include the name of your church, city, name and phone of a contact person and one of the following choices:
We have a plan in place (and whether you would be willing to share your plan with others)

We want the free guide only

We want the free guide and some assistance developing our preparedness plan
Preparation is a key factor in lessening the impact of a disaster.