Safer Tomorrows staff thank Grand Forks Schools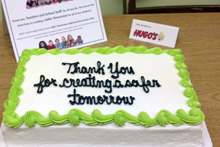 Yesterday, April 18, Safer Tomorrows staff visited 28 Grand Forks County public and parochial schools in a show of appreciation for teachers and school staff for all they do for our children, thanking them for their roles and efforts in creating a safe and fun learning environment, teaching respect and acceptance for our children.
Each school was given a cake with the message: "Thank you for creating a Safer Tomorrow" written on it, along with a copy of a letter composed by the Safer Tomorrows Leadership, acknowledging our gratitude to our schools for all they do for our children in creating safe learning environments.
Preceding Thursday's event, Mayor Michael Brown and others extended their appreciation for the program in the Grand Forks Herald on April 13:
Mayor Michael Brown and others write in appreciation to schools throughout Grand Forks County
By: Mike Brown, Grand Forks Herald
GRAND FORKS — We would like to express appreciation to each and every teacher, principal, coach and staff member of the public and parochial schools throughout Grand Forks County for their dedication this past school year in implementing a well-rounded package of violence prevention curricula and programs supported by the Safer Tomorrows project.
These programs are reaching nearly every K-12 student across the county. Because schools and their staff are embracing these new programs and putting forth the extra efforts that it takes to implement them, we have reached 260 student athletes with Coaching Boys into Men, around 5,500 students and adults with the Rachel's Challenge message of developing a culture of kindness and 6,100 students with the Olweus Bullying Prevention Program.
In addition, schools welcomed Restorative Justice staff into their classrooms to resolve conflict and repair the harm caused by hurtful behavior. Schools also made connections to Safer Tomorrows counselors to conduct individual and group counseling so students may heal from the trauma of violence.
The great commitment from the schools to implementing these programs and others will ensure that our youngest generation will be the one that replaces bullying with respect and inclusiveness, dating and sexual violence with healthy intimate relationships and child abuse and neglect with nurturing homes for all residents of our county.
This is our dream for Safer Tomorrows, and we say "thank you" to the schools for taking a strong stand to end violence and promote safety and respect in our kids, our community and our future.
Michael Brown
Julie Christianson
Jody Thompson
Janell Regimbal
Kristi Hall-Jiran
Diane Knauf
Brown is mayor of Grand Forks. Christianson is Safer Tomorrows coordinator. Thompson is assistant superintendent of teaching and learning for the Grand Forks Public Schools.
Regimbal is vice president of children and family services for Lutheran Social Services of North Dakota. Hall-Jiran is executive director of the Community Violence Intervention Center, and Knauf is a Grand Forks County commissioner.
For more information: http://www.safertomorrows.com