Lutheran Social Services Youth Court
Positive peer pressure: Making a difference in the lives of local youth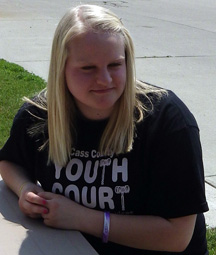 If Marissa Beauchane sees one of her peers going down the wrong path, she's not going to stand by and just let it happen. As a teen volunteer with Lutheran Social Services Youth Court for the past three years, Marissa is not only learning a great deal about our justice system, she's making a difference in the lives of kids who find it difficult, for one reason or another, to live within the law.
"I'm interested in the court system," Marissa said, "so I enjoy being part of this program. I started as a volunteer when I was in middle school, until I got busy and couldn't do it for awhile. Later, one of the (program) interns asked me to come back."
Marissa aspires to criminal justice as a career choice and hopes someday to be a probation officer.
Learning about the court system
"With youth court, it's important for the offender to learn about the court system," Marissa said. "Many young people don't even know what constitutes a crime—graffiti, for example. And they think things like petty theft isn't a big deal."
Marissa added that she was surprised by the number of minor in possession cases. "I knew there was drinking going on, but I didn't realize it went on so much." On the other hand, Marissa has noticed fewer shoplifting cases—mostly because of increased digital surveillance. "It's still going on with things like jewelry, shoes, sports gear. And kids who shoplift still think they won't get caught."
Educating the offender
Knowing that she's helped someone make the right choices is rewarding. "I once worked with an eighth-grade boy who got caught with drug paraphernalia with intent to sell," Marissa said. "I learned later that he had quit doing it and was talking his friends out of getting involved with it."
Some of the pointed questions Marissa asks while working with young offenders include, Is it really worth it? Do you think it's worth the risk of getting into more trouble the next time?
"I explain that the second offense usually involves a harsher sentence," Marissa explained. "Another problem is that young offenders often see themselves as victims. I try to help them see who the victim really is."
Joel Friesz, Lutheran Social Service Restorative Justice program director, sees the involvement of volunteers like Marissa as "positive peer pressure."
She added, "It's easier for me to relate to my peers than it is for adults. Obviously, kids don't want to be lectured."
Helping to select new leadership
Marissa was recently asked to be part of the committee that interviewed candidates for the youth court coordinator position.
"I was a little nervous at first," she said. "But I learned a lot about the hiring process and what to expect from a job interview."
More information
Lutheran Social Services Youth Court
Aimee Elsing, Coordinator
aelsing@lssnd.org
701-271-3253