Child Care Aware of North Dakota
CCR&R is now Child Care Aware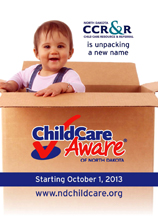 We're unpacking a new name: CCR&R is now Child Care Aware of North Dakota, starting October 1, 2013.
Our name is changing, but you can still call or click to connect with us in the same place.
Go to http://www.ndchildcare.org/
Q and A about Child Care Aware
Q: I've heard you're changing your name, why?
A: In 2012, our national organization changed its name from NACCRRA (National Association of Child Care Resource and Referral Agencies) to Child Care Aware of America. The goal of this name change was to create a recognizable national brand that more clearly stated the work of the organization. Adopting the name of our national organization will help us strengthen our work and recognition on a state and national level.
Q: Are CCR&R training and consulting services going away?
A: Nothing is going away. Actually, NEW services and opportunities are or soon will be available. New training courses are also in development. Watch your e-newsletter, our website and Facebook for updates.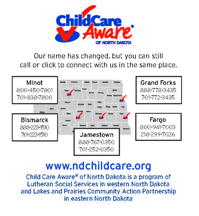 A: You'll still have access to training, coaching and consulting via our same website – ndchildcare.org. Staff, office locations and phone numbers will stay the same as well.
Q: Can I still call you CCR&R… I'm use to that name
A: Of course. Name changes take a while to get use to.
Q: Do I still have access to my training account?
A: Yes, our website is still www.ndchildcare.org. You can search and access our training site via the quick link located in the upper right corner of our home page.
Q: Some things have the CCR&R logo on it and other things don't.
What's going on?
A: A name and logo change over takes time. Existing resources will get updated over the next few months. Please let us know if you find something that is outdated and we will work to update it as soon as possible.
Q: Do I need to throw away everything that has the CCR&R name and logo on it.
A: We chose to make a name and logo change at this time because many of our resources are in need of an update now as we head into a new biennium after the legislative session.
Resources that are delivered via the web can be updated for little or no cost.
We are working to "use up" existing materials over the next few months to minimize cost. The information on many resources is still correct. The only thing that has changed is our name.