Lutheran Social Services Adoption Option
No case is simple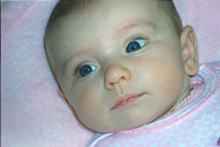 "Joy" was 25 years old, developmentally delayed and seven-months pregnant. "Jim," the 30-year-old biological father had learning disabilities but was holding down a steady job. This couple wanted to consider their options regarding their pregnancy, as Jim was already married with children and determined to parent the child. Without his cooperation, the woman would not have been able make an adoption plan.
Joy contacted Lutheran Social Services Adoption Option, which helped her create an assessment of needs, a critical step in receiving appropriate services. She received counseling early enough in her pregnancy to work out an alternative parenting plan, one acceptable for each birth parent.
The couple's extended families became support systems for each birth parent. A host of community services were utilized to assure that these birth parents would be successful in their shared parenting efforts. This planning was completed prior to the birth of the baby, reducing stress and crisis at the time of birth.
The complications in this case proved there was nothing simple in serving this couple and their expectant child
"Jenni" turned 20 the day she confirmed her positive pregnancy test. She made her first call to Lutheran Social Services Adoption Option to help her create a plan for parenting and get the biological father on board. Pregnancy counseling allowed Jenni to develop a positive plan for herself and her baby, while also involving the biological father in a dialogue that was constructive and healthy.
Decision making, role modeling and identifying priorities and community resources were significant steps taken over the next few months. Jenni felt ready to move forward with her plan, understanding the realities of the minimal support she would receive from the baby's father. With counseling, she developed an awareness of the consequences of single parenting, which included custody and financial issues.
People always have choices, but when people like Jenni and Joy are under stress or in pain they often feel powerless. Lutheran Social Services Adoption Option helped them make informed decisions, access community services and feel supported.
Lutheran Social Services Adoption Option is a partnership between the Village Family Service Center and Lutheran Social Services of North Dakota. For more information, contact Sue Grundysen, program director, 701-451-4940 or 1-800-627-8220, or sgrundysen@lssnd.org.