Residents move back to new Lutheran Social Services Luther Hall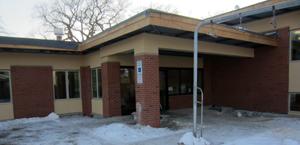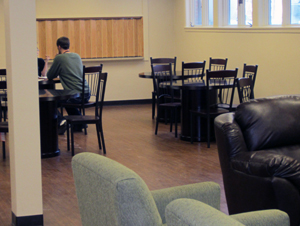 As a marathon runner might exclaim after a long race, Angell Naslund poured out her feelings after residents and staff moved back to the renovated and expanded Lutheran Social Services Luther Hall:
"We made it!"
After months of being placed at a temporary location, numerous daily transitions and sacrifices, the residents were able to move into their brand new home Jan. 18. The new facility was made possible thanks to the generous donors to the agency's Abound in Hope Capital Campaign.
"It was worth the wait," said Angell, the clinical director. "We took the boys and girls on tours, explaining what each room was and what it would be used for. There were lots of 'oohs' and 'aahs' as they listened and clapped their hands in disbelief. One of the details they were most excited about was the laundry room, with many new washers and dryers."
One of the residents asked, "So I can wash my clothes every day now and I don't have to wait for laundry day?"
Angell said that another source of excitement was the brand new mattresses, with many comments about how thick and comfy they looked.
"This was a reminder to me that it isn't just the big things like a brand new building, but the seemingly small things that can make a big difference, too."
Each resident was given a "welcome home present" which included new sheets, towels, a water bottle and other small items in a cloth storage bin for their room.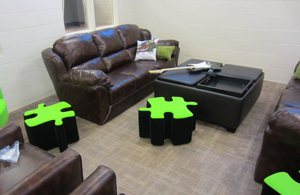 Lutheran Social Services Luther Hall staff also made the best of things as they awaited the project's completion.
"This was an incredible challenge," said Mary Weiler, Vice President, Community Outreach Services. "Staff members have done an amazing job providing the communication, structure and supervision needed for the residents. We are grateful to them for their dedication and perseverance."
"Our residents are truly appreciative," Angell said. "We have had many conversations about how this project has come about, and I've heard statements like, 'It feels good to know that people who don't even know us care about us.' I work with some of the most incredible children around. Every day they teach me lessons in patience, flexibility and adaptability. I watched and learned as they coped with the daily transitions with exceptional ease and grace, anxiously awaiting their new home to be complete. They are ever resilient and truly strong."
"There is still work to be done but everyone is grateful to be back," Mary added. "Now we can continue to do our work to bring healing, help and hope to our children, adolescents and their families. No doubt we will look back and wonder how we ever did it. But we did!"