Lutheran Social Services Housing
The Landing celebrates construction progress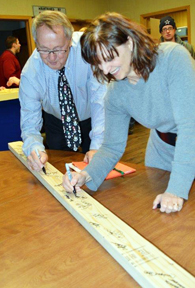 The rapid construction progress on the Landing, new affordable apartments now being built in Bowman, N.D., was marked by a celebration on Friday, December 6. John Phillips, Lutheran Social Services Housing Real Estate Specialist for western North Dakota, and Mary Anderson, Executive Director of ABLE, Inc., signed a commemorative 2"x4" to mark the occasion.
When completed, 10 of the project's 26 units will serve as new independent homes for special needs individuals affiliated with ABLE, Inc., a western North Dakota nonprofit agency that provides a wealth of educational, vocational and independent living supports to those who have developmental disabilities. The balance of apartments will be rented by individuals and families in the Dickinson/Bowman region who are living on modest incomes and who seek high-quality, affordable apartment living.
In addition to providing staff and clients with a way to formally mark the project's successful launch, the construction celebration welcomed key funders and lenders such as North Dakota Housing Finance Agency and Western Dakota Bank. Funding from the state's new Housing Incentive Fund, which allows North Dakota individuals and corporations to direct their state income tax dollars to fund new affordable housing projects, are a core component of this shared project.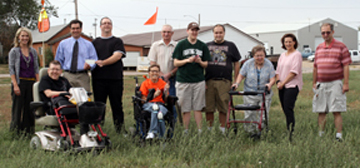 Those who want to be entered on Lutheran Social Service Housing's Notification List so they know when the Bowman apartment applications become available can call (701) 271-3207 or housing@lssnd.org.