North Dakota leads nation in housing development rate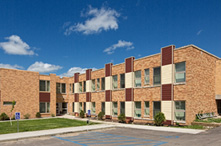 North Dakota is developing new housing at a faster rate than any other state in the nation, according to the N.D. Office of the Governor. A recent press release indicates that North Dakota added 7,388 new housing units in 2012, the nation's strongest growth rate at 2.3 percent, according to the U.S. Census Bureau.
"We added more than 7,000 net housing units across the state last year and we will continue to work with local governments and the private sector to address our growing state's current and future housing needs," Governor Jack Dalrymple said in the release. "The state is using several programs to facilitate the development of housing, and our progress is proof that our strategies are working."
Among those added housing units, Lutheran Social Services Housing has created or preserved more than 400 rental units in 12 North Dakota communities since 2010.
"There are tremendous housing needs across the state of North Dakota," said Jessica Thomasson, director, Lutheran Social Services Housing. "Our projects help meet some of the need for affordable rental housing, but we know there is more to do. The state's support of affordable housing development, through the NDHFA's Housing Incentive Fund and the Bank of North Dakota's Flex Pace program, is making a lot of our work possible. It's an active housing market for sure, but keeping an eye on affordability is essential for our state's future success."
The U.S. Census Bureau's national housing estimates show that while housing development in North Dakota increased by 2.3 percent last year, the nation averaged a housing growth rate of 0.3 percent. Two counties in North Dakota—Williams and Ward—ranked first and second in the nation, respectively, in terms of growth in new housing development.
The Census Bureau's top 100 rankings included several N.D. counties
#1 Williams – 13.9 percent increase with 1,525 new housing units
#2 Ward – 4.8 percent increase with 1,318 new housing units
#8 Stark – 3.1 percent increase with 344 new housing units
#9 Morton – 3.0 percent increase with 370 new housing units
#17 Burleigh – 2.2 percent increase with 786 new housing units
#23 Cass – 2.0 percent increase with 1,372 new housing units
#58 Grand Forks – 1.4 percent increase with 401 new housing units
#100 Ramsey – 1.2 percent increase with 68 new housing units
In his annual state of the state address in January, Governor Dalrymple said, "There is one organization that has been the clear leader in organizing low-income housing projects. Lutheran Social Services (Housing) deserves our full gratitude for putting together projects across the state. Talk about making a real difference in North Dakota. Housing is much more than just walls and ceilings. It's key to community stability and our quality of life."
Lutheran Social Services of North Dakota, Thomasson added, "has a strong sense of purpose and deep commitment to improving the lives of people we serve. We know that having access to quality affordable housing is a critical component of family stability. Building and managing affordable housing is just one more tool we have for helping families thrive."