Lutheran Social Services Housing
Lutheran Social Services of North Dakota Receives Partnership Building Award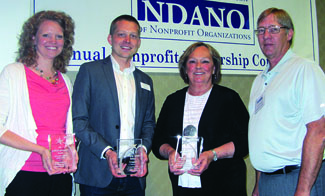 Lutheran Social Services Housing has received the North Dakota Association of Nonprofit Organizations' (NDANO) Partnership Building Award during the Nonprofit Leadership Conference May 28 in Bismarck.
The award is given to an organization that has demonstrated community leadership and built partnerships within the North Dakota nonprofit sector. Nonprofits, for-profit businesses, government agencies and educational institutions are eligible for this award.
Lutheran Social Services Housing has demonstrated a willingness to create affordable housing in many communities in rural North Dakota. Its focus is on building on rural towns' capabilities and listening to residents' needs and wants. In every case, those serving the community have been engaged in the development process and community consultation.
"It is an honor to present this award to such a deserving organization making a difference in North Dakota's nonprofit sector," said Jessica Gilbertson, NDANO executive director.
NDANO is the statewide membership association advancing nonprofit organizations through advocacy and public policy, education and training, resources and research, cost-saving programs, and leadership and networking. Learn more at www.ndano.org.