Open house held Jan. 25 at Lutheran Social Services Legacy Living - Jamestown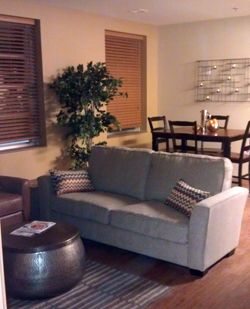 Despite frigid temperatures, more than 300 visitors toured Lutheran Social Services Legacy Living on Jan. 25. The nonprofit affordable senior apartment complex is being created from renovation of the former Jamestown Hospital.
Guests were able to view a fully equipped unit in order to get a feel for how they or their parents might furnish a new home there. Unique elements such as a portable fireplace in the living room were included with help from Zimmerman's Furniture Store in Jamestown.
The first residents are scheduled to move in beginning Apr. 1. The complex includes 20 one-bedroom income-assisted units and 31 additional rental units with 17 floor plans, ranging from single bedrooms with a den to very spacious two-bedroom units. Apartments feature many elements that benefit older tenants, such as large bathrooms with accessible showers with seats and the option to add personal care, cleaning services and meal delivery on a month-to-month basis.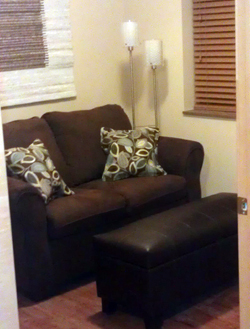 When Lutheran Social Services Legacy Living is fully completed in the late fall of 2013, the complex will also provide a new home for the James River Senior Center and its activities, a public restaurant, a hair salon, a hotel room available to tenants' families for a nominal rental fee, a large family dining room and adjoining children's game room for large parties and anniversaries, a 100-person chapel and a 200-person ballroom.
Rental applications are available by phoning Claudia at Lutheran Social Services Housing at 701-271-3207.