Lutheran Social Services Haven House receives generous community support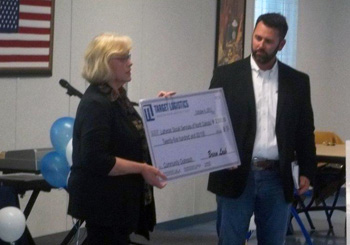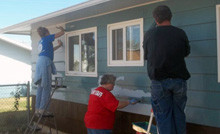 Community volunteers from local churches and businesses began renovations during a Volunteer Day on Sept. 22 at Lutheran Social Services Haven House in Williston. The residence is under renovation by Lutheran Social Services of ND to be operated as a hospitality house for people receiving outpatient services or who may have a family member undergoing medical treatment.
The 21 volunteers ranging in age from three to 90 years old worked outdoors on a sunny fall day to trim trees and bushes and paint the house's exterior, garage and patio. Inside work involved removing carpets, wallpaper, cabinets, trim, closet doors and window treatments.
According to Peggy Bearce, office coordinator for Lutheran Social Services's Williston office, the church volunteers came from Thrivent West Williams Chapter as well as members of Mission Lutheran Church, Faith United Methodist Church, Good Shepherd Lutheran Church, First Lutheran Church, Gloria Dei Lutheran Church and Lutheran Brethren Church. Oil field employee volunteers came from Black Hills Trucking, Nabors Drilling and Baker Hughes.
Other contributions came from Chamley Pipe and Salvage, which donated two dumpsters, and Montana-Dakota Utilities Company, which removed a large tree from the property.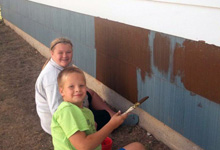 Opening of Lutheran Social Services Haven House is scheduled for April 2013. Admittance will be restricted to families referred by health care providers, churches and funeral providers. The facility will accommodate up to 12 people in six bedrooms for minimal fees on a sliding scale based on ability to pay. Funding for the project is from private donations.
The Volunteer Day was made possible by a $300 donation from Thrivent West Williams Chapter.
Lutheran Social Services purchased the former parsonage at 1232 13th Ave. W., Williston, from Gloria Dei Lutheran Church to remodel into Lutheran Social Services Haven House.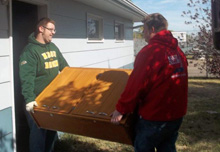 How to donate to Lutheran Social Services Haven House
Monetary donations to help complete Lutheran Social Services Haven House are needed and appreciated. Please make your check payable to Lutheran Social Services Housing with "Haven House" in the memo line and mail your donation to Lutheran Social Services Haven House, PO Box 163, Williston, ND 58802-0163.
Please call the Lutheran Social Services office in Williston at 701-774-0749 with any questions about donating or volunteering.