Lutheran Social Services Legacy Living
Dalrymple celebrates completion of Lutheran Social Services Legacy Living in Jamestown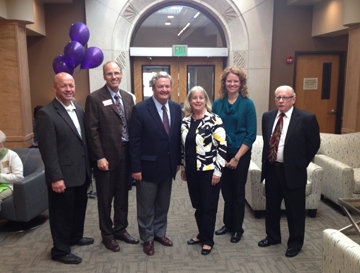 (News release from the Office of the Governor)
BISMARCK, N.D. – On Tuesday, October 8, Governor Jack Dalrymple celebrated the completion of the Lutheran Social Services Legacy Center in Jamestown. The residential and commercial center, a major renovation of the former Jamestown Hospital, includes rental housing for adults of various income levels, a child care center, a wellness center and senior citizen services.
"This project is a great example of what can be accomplished by working together to meet the needs of our growing communities and enhance our quality of life," Dalrymple said. "Lutheran Social Services has done an outstanding job transforming this landmark building to provide a creative housing solution and to support other public services that strengthen communities."
The Lutheran Social Services Legacy Center includes 20 low-income apartments for residents 62 years of age or older and 31 apartments without income restrictions for residents 55 or older. The building also houses a privately owned child care center, a community wellness center and is home to the James River Senior Center. From the renovated hospital, the James River Senior Center offers a regional meal program and transportation program for seniors. The Legacy Center is expected to draw other commercial businesses as well.
The North Dakota Department of Commerce awarded Lutheran Social Services a $220,000 HOME program grant to assist in the development of the project's low-income housing. The Bank of North Dakota and the U.S. Department of Housing and Urban Development also assisted in the project's development.
"Lutheran Social Services Housing is honored to be able to launch its new brand of apartments for adults 55 and over through redevelopment of this beautiful former hospital building in Jamestown," said Jessica Thomasson, director of Lutheran Social Services Housing.
"We are now working to replicate this model in other North Dakota communities, beginning with our current renovation of Williston's historic high school," Thomasson said. By attracting additional partners, such as local senior centers, to share these new homes with us, Lutheran Social Services is creating a new kind of community anchor for older adults and their families."
Officials from Roers, Inc. joined Lutheran Social Services in sponsoring the grand opening event. Roers served as a co-leader in the Legacy Center project since its inception in 2010. The firm served as a development and architectural partner in the renovation and led the construction process. Joining Dalrymple for the center's dedication included Lutheran Social Services of North Dakota CEO Robert Sanderson, Jamestown Mayor Katie Anderson, Jessica Thomasson, director of Lutheran Social Services Housing, Larry Nygard of Roers and Joel Manske of the U.S. Department of Housing and Urban Development.
North Dakota is developing new housing at a faster rate than any other state in the nation. North Dakota added 7,388 new housing units last year, the nation's strongest growth rate at 2.3 percent, according to estimates compiled by the U.S. Census Bureau.
The state facilitates the development of low-and moderate-income housing in several ways, including the Housing Incentive Fund. Capitalized with$15.4 million in state funds and contributions from state taxpayers, the HIF provides developers of affordable rental housing with low-cost financing. The individuals, businesses and financial institutions that help to further build this fund receive a dollar-for-dollar state income tax credit.
During the last biennium, the HIF program supported the development of 669 affordable housing units in western North Dakota and other areas of the state. Fully capitalized, the program is projected to facilitate the development of about another 1,000 affordable housing units in 2013 and 2014.