Legacy Living in Williston, ND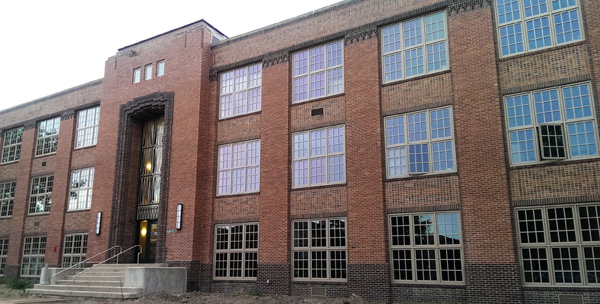 The 44 independent living apartments that make up the project have been created through renovation of the former Williston Junior High (originally Williston High School), built in the early 1930s. Lutheran Social Services has preserved the unique Art Deco qualities of this landmark building, which is listed on the National Register of Historic Places. Elements such as the sweeping terrazzo stairwells and multi-story decorative front window have been fully restored, with spaces that were formerly classrooms and offices being converted into graceful, loft-like one and two bedroom apartments. A new elevator has been added in the building's center to ensure easy accessibility.
All of the apartments are designed according to the principles of universal design, intended to be adaptable to meet the changing needs of residents as they "age in place." The apartment layouts feature large new windows which bring a lot of natural light into many of the rooms.
Window installation
Lutheran Social Services of North Dakota commissioned painter Rando to create original large-scale works of art for the project. He took his inspiration from North Dakota's native animals and landscapes, with Williston's mascot, the coyote, honored in one large central painting. The building's former school gymnasium is being recreated as a multi-purpose dining and special event room. Once the apartment complex is fully operating, this room will serve as a daily site for noontime senior meals available both to tenants and the community at large.
Renting at Legacy Living in Williston
Modern floor plans in historic building

Rent includes all utilities

Telecommunications package includes high speed internet, cable and phone

Off-street parking space free of charge for all tenants

Guest suite available on site for resident visitors

Beautiful common room/TV lounge on floor 2 near laundry room

Special events/dining room will become noon-time senior meal site open to the public
Contact (701) 271-3207 or housing@lssnd.org for an application.