Community Outreach

Lutheran Social Services New Americans
Volunteers help with refugee garden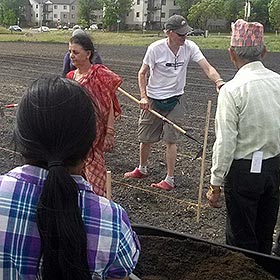 Lutheran Social Services of North Dakota and volunteers helped to start a community garden for new Americans in May in Fargo. This project provides a healing place for refugees to work in the garden while involved with others in the community.
Refugee families raise enough garden produce to feed their families and provide resources through selling some produce. View Video > >
The gardening project is a collaboration between Olivet Lutheran Church and Lutheran Social Services New Americans that provides an excellent opportunity for Fargo residents to meet and interact with new Americans as they garden and grow together. The public is invited to volunteer with the project throughout the summer. Contact Darci Asche at 701-271-1604 or dasche@lssnd.org.