Lutheran Social Services Senior Companions
"From our hearts to your kitchen"
Senior Companions cookbook now available!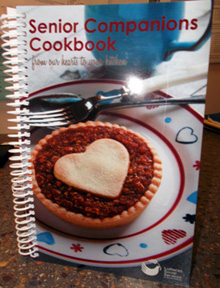 Lutheran Social Services Senior Companions is excited to share a one-of-a-kind cookbook that is chock full of favorite recipes submitted by our beloved senior volunteers, clients and program supporters. Recipes include Appetizers and Beverages, Main Dishes, Cakes and Desserts and everything in between! You will find something for every taste bud here!
Cost is $15.00 per book. Send your name and address, along with your check, to
Lutheran Social Services Senior Companions
P.O. Box 389
Fargo, ND 58107
Cookbooks are also available at:
Fargo Administrative Office
4720 7th Ave. S. Suite B
Fargo, ND 58103
Minot Program Center
1905 2nd St. S.E., Suite 1B
Minot, ND 58701
With your purchase, you will receive 250 pages of delectable, tried and true recipes that have been shared by families for generations. You will also be supporting the service provided by senior companion volunteers statewide. On average, Lutheran Social Services Senior Companions provides 72,000 hours of service each year helping other older adults in their communities who are lonely, isolated, home-bound, frail or disabled.
Today, more than 600 North Dakota seniors are receiving senior companion services. With our state's senior population ever-growing, the need for quality support services, like Lutheran Social Services Senior Companions, is essential to help older adults remain living at home safely, comfortably and independently.
For more information about receiving services or becoming a volunteer, call 1-800-450-1510.