Lutheran Social Services Senior Companions
Lutheran Social Services Senior Companions provides free in-home services to Walsh County seniors!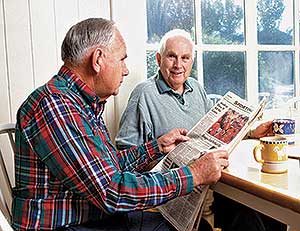 Lutheran Social Services Senior Companions is excited to announce that it has partnered with Walsh County Nutrition and Transportation Program to provide free in-home services to local seniors. Volunteer senior companions provide companionship, social recreation and assistance with daily living activities so seniors can remain living independently in their own homes. The program also provides respite for caregivers who need a temporary break from their daily caregiving responsibilities.
The one-on-one companionship and daily living assistance provided by senior companions can help seniors improve their quality of life, reduce feelings of loneliness and build motivation to stay active and interested in life and the community.
The benefits to becoming a senior companion include a tax-free hourly stipend, travel reimbursement, paid holidays, paid time off, ongoing training opportunities and supplemental insurance coverage. Most importantly, senior companions benefit by making a positive difference in the lives of other seniors in their community.
If you are 55 years of age or older, of lower income and available to volunteer at least 15 hours per week, contact Andrea Lang, Eastern Program Coordinator, at 800-450-1510 for more information about becoming a senior companion volunteer in your area.
If you, or someone you know, would benefit from receiving senior companion services, please contact Jean Hjelmstad, volunteer station supervisor with Walsh County Nutrition & Transportation Program, at 701-284-7999.