Lutheran Social Services Senior Companions
"It's a good thing all around"
Imagine waking up one day in an empty house—one that was once filled with the laughter of your children and the companionship of a spouse. But now your children have grown up and moved away; your spouse has passed on. You continually worry about losing your independence.
This is an all too common scenario for many North Dakota seniors. But help and hope is available.
Lutheran Social Services Senior Companions is a program in which seniors help seniors live independently. While dedicated senior companions like Dorothy Glanville and Minnie Rostad of Bismarck receive a stipend and other benefits, their reasons for becoming and remaining volunteers go well beyond financial rewards.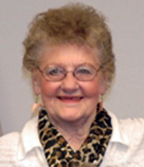 "It was shortly after my husband passed away that Minnie, a senior companion at that time, suggested I try it out," Glanville said. "It sounded like something I'd enjoy, and here I am 20 years later, still a senior companion. I dearly love it!"
Rostad, who recently celebrated 22 years as a senior companion, visits 10 to 12 clients a week at Edgewood Vista in Bismarck.
"I enjoy each and every one of the people I see," Rostad said. "One of the things I enjoy the most is reminiscing with them. I love to hear them talk about their former lives."
Glanville, who works with clients four days a week out of the Burleigh County Senior Adult Program, said, "I look forward to every one of those days. It gets me out of the house. I've learned so much about being patient and listening better."
Listening is possibly one of the best things senior companions can do with their clients. "I believe they're in a better mood after I arrive," Glanville added. "And the feeling is mutual."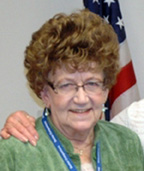 "Most of the people I see still have an interest in what's going on in the world," Rostad said. "I often read the paper to some who no longer see well enough to read."
Both Glanville and Rostad plan to keep going as senior companions as long as they can. "They wait for me to come," Rostad added. "If I take a day off, I'll see them the next day and they ask, 'where were you yesterday?'"
"I live alone," Glanville said. "And the people I visit have become like family to me—so it's a good thing all around."
For more information about becoming a senior companion in the Bismarck area, contact Sonja Mickelson, Lutheran Social Services Senior Companions, 701-838-7800 or smickelson@lssnd.org.