Lutheran Social Services Senior Companions
How can I receive the services of a Senior Companion?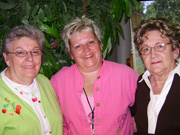 You can connect yourself or a loved one to a Senior Companion by contacting your local Lutheran Social Services Senior Companions Volunteer Station or contacting a Senior Companion Coordinator, listed below. Agencies providing health care and social services to seniors may also request Senior Companions services for their clients.
Once a request is made, the Volunteer Station Manager meets with the older adult to discuss their needs and what kind of activities they enjoy. They then find the Senior Companions volunteer who best matches those needs and interests.
Contact Us

Becky Telin, Program Director
Email: btelin@lssnd.org
701-838-7800
1905 2nd St SE Suite 1B
Minot, ND 58701

Sonja Mickelson, Western ND Program Coordinator
Email: smickelson@lssnd.org
701-838-7800
1905 2nd St SE Suite 1B
Minot, ND 58701
Andrea Lang, Eastern ND Program Coordinator
Email: alang@lssnd.org
701-271-3247
3911 20th Ave. S.
Fargo, ND 58103