Overview
Who can participate?
This free, voluntary family support service helps parents create a healthy, nurturing home for their new baby. The program started in 2000 as a collaboration of 15 private and public agencies in the Grand Forks region who provide support services to the program. Lutheran Social Services Healthy Families expanded to serve Burleigh and Morton Counties (Bismarck-Mandan) since 2008.
Families living in Grand Forks, Nelson, Burleigh and Morton Counties of North Dakota are eligible.
Area hospitals, clinics and social service agencies screen parents either before or within two weeks after their baby's birth to identify parents who could benefit from these support services. A family assessment worker then visits the new parents to determine their needs and offers information about how the program can help.
Services offered
Different levels of services are offered based on the needs of the participant. Trained family support workers offer new parents and their families support and information about:
Wellness during pregnancy

Breastfeeding

Parenting skills

Positive parent-child interaction

How to recognize and respond to different stages of infant and child development

Well baby visits, immunizations and developmental screening to access the health of the child

Stress reduction techniques to help families adjust to the challenges of parenting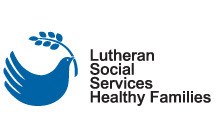 Family support workers provide these services through regular home visits. They serve as role models for new parents, offer a listening ear, parenting advice and help connecting to resources in the community. Participating families can receive these services until their child is three years old.

Why is Lutheran Social Services Healthy Families important?
Parenting is a tough job. Research continues to show that the care a baby receives during the first three to five years of life has a long-term impact on their quality of life as an adult.
The goal of Lutheran Social Services Healthy Families is to make it possible for all children to grow up in a safe, healthy and nurturing environment that is free from neglect and abuse.
Contact us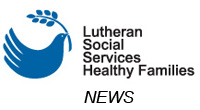 Jody Bettger Huber, Program Director
Email: jhuber@lssnd.org
1616 Capitol Way
Bismarck, ND 58501
Phone: 701-223-1510
Parents can also be screened and pre-registered at any hospital or clinic in Grand Forks, Nelson, Burleigh or Morton County.
Resources
www.preventchildabuse.org
www.healthyfamiliesamerica.org
www.PCAND.org (Prevent Child Abuse North Dakota)